Gist The 14th Headies Full Winners List.
The 14th Headies Full Winners List.
The most anticipated music award, The Headies, has finally come and below are the winners.
SONGWRITER OF THE YEAR
SIMISOLA BOLATITO OGUNLEYE (SIMI – DUDUKE)
BEST POP ALBUM
APOLLO – FIREBOY DML
BEST MUSIC VIDEO
1 MILLI – DAVIDO BY DIRECTOR K
NEXT RATED
OMAH LAY
LYRICIST ON THE ROLL
ILLBLISS – COUNTRY
BEST VOCAL PERFORMANCE (FEMALE)
NINIOLA – ADDICTED
BEST R&B ALBUM
LAUGHTER, TEARS AND GOOSEBUMPS – FIREBOY DML
BEST COLLABORATION
KNOW YOU – LADIPOE FEAT. SIMI
BEST RAP SINGLE
BOP DADDY – FALZ FEAT. MS. BANKS
BEST R&B SINGLE
TATTOO – FIREBOY DML – WINNER
BEST STREET-HOP ARTISTE
MAYORKUN – GENG
BEST 'ALTERNATIVE' SONG
I WONDER – MOELOGO
PRODUCER OF THE YEAR
PHEELZ – 'BILLIONAIRE' BY TENI
BEST ALTERNATIVE ALBUM
ROOTS – THE CAVEMEN
BEST RECORDING OF THE YEAR
OZYMANDIAS – BRYMO
ROOKIE OF THE YEAR
BAD BOY TIMZ
BEST VOCAL PERFORMANCE(MALE)
PRAIZ – UNDER THE SKY
BEST POP SINGLE
NOBODY – DJ NEPTUNE FEAT. JOEBOY & MR. EAZI.
HEADIES' VIEWER'S CHOICE
WIZKID
AFRICAN ARTISTE RECOGNITION
MASTER KG
SPECIAL RECOGNITION:
EEDRIS ABDULKAREEM
TIMAYA
HALL OF FAME
KING SUNNY ADE
BEST RAP ALBUM
A non-voting category for the best album by a rap artiste or group in year under review.
GOD'S ENGINEERING – AQ
ILLY CHAPO X – ILLBLISS
YPSZN2 – PSYCHO YP
CULT! – PAYBAC IBORO
THE ERIGMA II – ERIGGA
HEADIES REVELATION
A voting category for the best new artiste with a debut album adjudged to be outstanding in terms of artistic quality and impact within the year under review.
VICTOR AD
FIREBOY DML
JOEBOY
TENI
REMA
CHIKE
ALBUM OF THE YEAR
A voting category for the best album (solo or group) in year under review, that meets judges' requirements of excellence (songwriting, production, rendition and impact).
AFRICAN GIANT – BURNA BOY
APOLLO – FIREBOY DML
AFRO POP VOL. 1 – ADEKUNLE GOLD
YELLOW – BRYMO
BOO OF THE BOOLESS – CHIKE
ARTISTE OF THE YEAR
Most critically and commercially adjudged artiste in the year under review. Overall most successful artiste in the year under review.
BURNA BOY
DAVIDO
WIZKID
MAYORKUN
TIWA SAVAGE
Titan Farms Launches Opulence City, Sells for #750,000
Titan Farms Launches Opulence City, Sells for #750,000
The foremost agricultural and real estate company in Ibadan, Titan Farms has begun sales of plots of lands in its estate named "Opulence City" at
Moniya
in Ibadan.
The price of a plot of land at Opulence City is starting at #750,000.
The land comes with additional perks such as professional layout deed and/or Contract of Sale receipt for FREE!
Furthermore, buyers would also be given 500 Blocks and 20 Bags of Cement for free.
Announcer: 
MR Tolu Oluwo
Head of Public Relations/Media
[News] Jehova Rapper Challenged To Drop The Controversial Single With BLACK CAMARU, See Details!
JEHOVA RAPPER who went on his page and asked fan what they felt about the jam he made with BLACK CAMARU, but fans didn't take it easy as they laid pressure on his to drop the long awaited single featuring the internet sensation…
JEHOVA RAPPER who made the headlines on top blogs and sites about his skilled rap lines few months back, has been pressurized to drop the long awaited single that got people talking.
It's not clear if the song will be dropped or not but one things is sure… it's a song set to stir controversy from the leaked snippet.
Watch below;
Courtesy: CEO 360nd Media
Check Out What Actress Ruth Kadiri Said After It Was Alleged That Prophet TB Joshua Is Dead
It is undoubtedly said that whatever that has a beginning must surely have an end just the book of ecclesiastics thought us that there is time for everything under the sun, a time
to be born and a time to die. This is the case of a popular man of God who was comfirmed dead, this morning as Ruth Kadiri replies.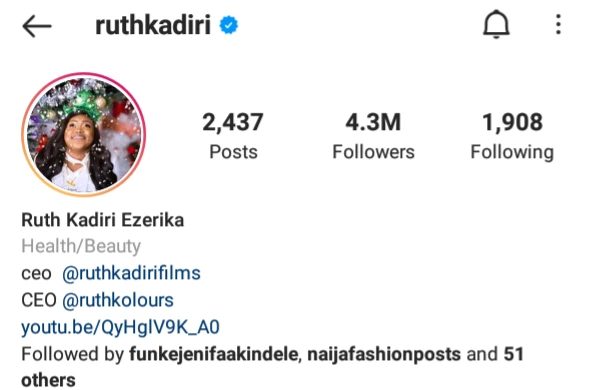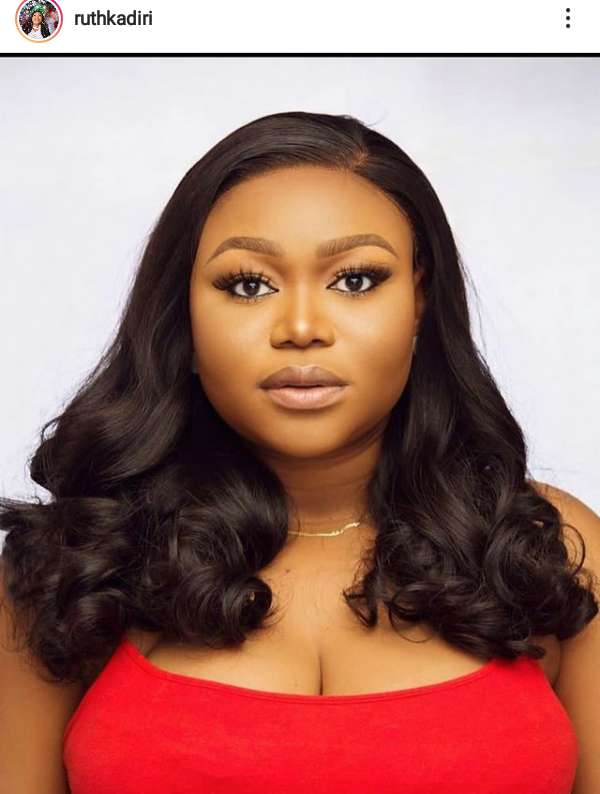 Ruth Kadiri is a popular Nollywood actress who is popularly known for her stunts and undiluted actions in movies. Ruth has been featured in not less than 150 movies which were all to her credit. She has also won so many awards including numerous endorsements from most popular brands in Nigeria.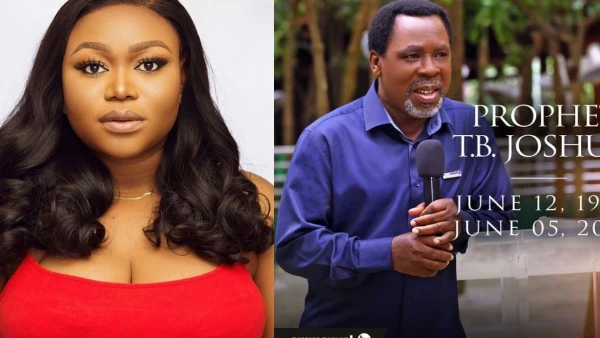 Just this morning, the beautiful actress has taken to a comment section of Instablog9ja to reply a post which involves the death of a popular man of God, TB Joshua as he is comfirmed dead.
The death of the man of God was made public in an instagram post which was made public by Instablog9ja. The post read thus:
PROPHET TB JOSHUA_JUNE 12th 1963 to June 5th 2021
"Surely the sovereign LORD does nothing without revealing his plan to his servants the prophets". Amos 3:7
On Saturday 5th June 2021,Prophet TB Joshua spoke during the Emmanuel Tv partners meeting. "Time for everything – time to come here for prayers and time to return home after the service".
As prophet TB Joshua says, "The greatest way to use life is to spend it on something that will outlive it".
Prophet TB Joshua leaves a life of legacy and sacrifice to God's kingdom that is living for generations yet unborn. The Synagogue Church Of All Nations and Emmanuel Tv Family appreciate your love, prayers and concerns at this time and request a time of privacy for the family. Here are Prophet TB Joshua's last words: Watch and Pray ". One life for Christ is all we have, One life for Christ is so dear".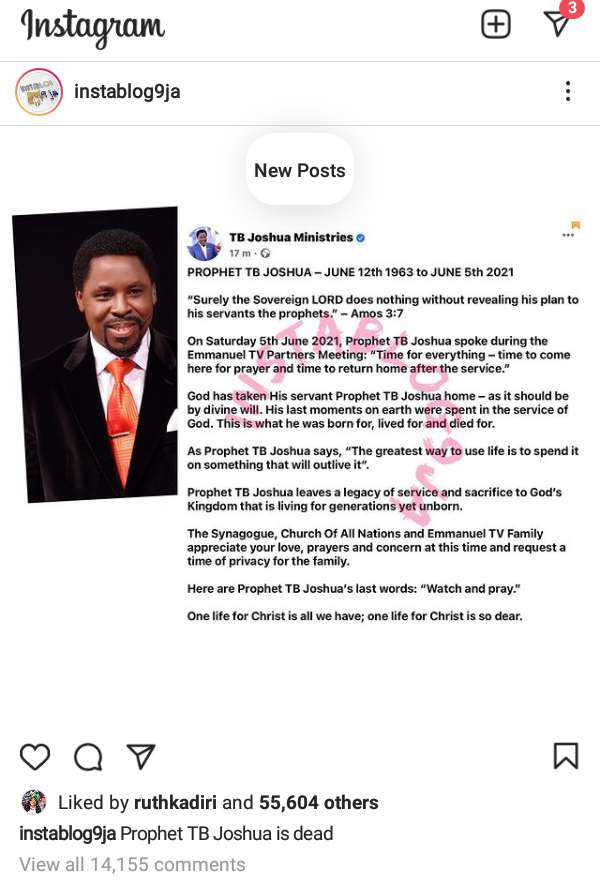 Minutes after the heartbreaking news was made public, actress Ruth Kadiri took to the comment section to reply thus:
"dear Lord", she said with a sad emoji.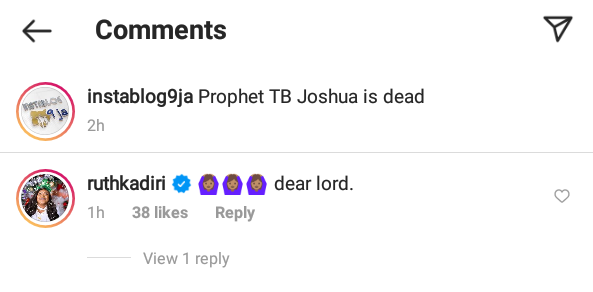 Here are other comments from other users of the app below: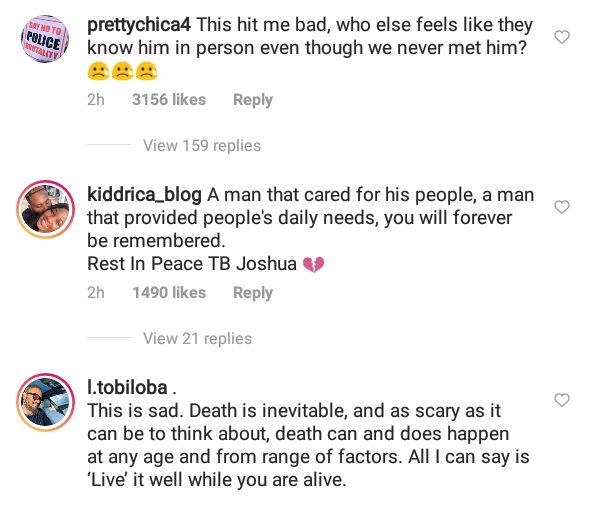 As saddening as it, we all pray that God gives the family the fortitude to bear this irreplaceable lost. Rest In Peace to the man of God, TB Joshua.
It is in deed a lesson that everything that has a beginning must surely have an end.