Check Out What Actress Ruth Kadiri Said After It Was Alleged That Prophet TB Joshua Is Dead
It is undoubtedly said that whatever that has a beginning must surely have an end just the book of ecclesiastics thought us that there is time for everything under the sun, a time
to be born and a time to die. This is the case of a popular man of God who was comfirmed dead, this morning as Ruth Kadiri replies.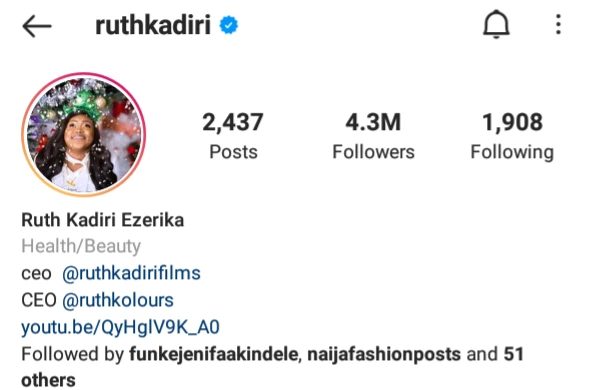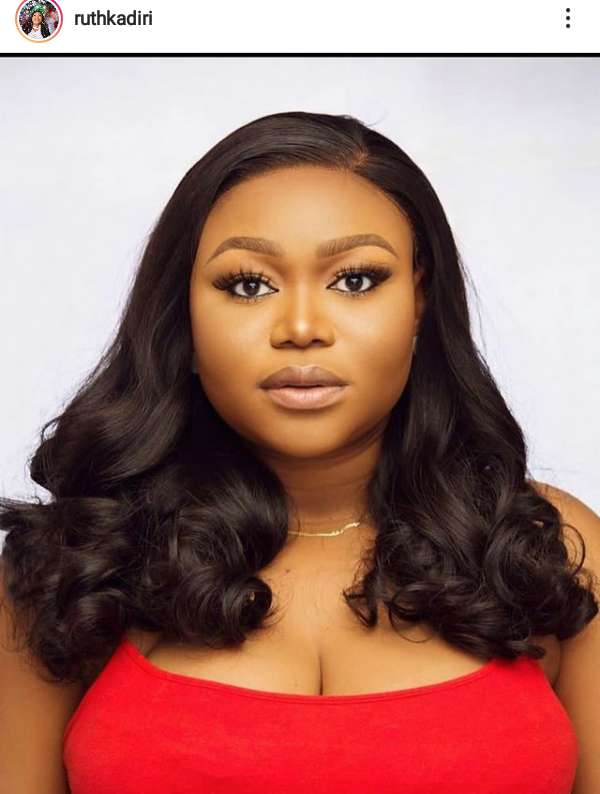 Ruth Kadiri is a popular Nollywood actress who is popularly known for her stunts and undiluted actions in movies. Ruth has been featured in not less than 150 movies which were all to her credit. She has also won so many awards including numerous endorsements from most popular brands in Nigeria.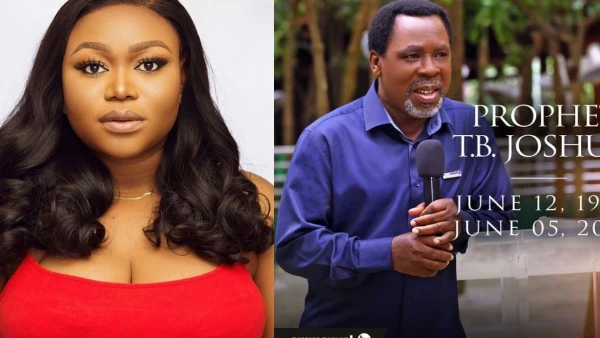 Just this morning, the beautiful actress has taken to a comment section of Instablog9ja to reply a post which involves the death of a popular man of God, TB Joshua as he is comfirmed dead.
The death of the man of God was made public in an instagram post which was made public by Instablog9ja. The post read thus:
PROPHET TB JOSHUA_JUNE 12th 1963 to June 5th 2021
"Surely the sovereign LORD does nothing without revealing his plan to his servants the prophets". Amos 3:7
On Saturday 5th June 2021,Prophet TB Joshua spoke during the Emmanuel Tv partners meeting. "Time for everything – time to come here for prayers and time to return home after the service".
As prophet TB Joshua says, "The greatest way to use life is to spend it on something that will outlive it".
Prophet TB Joshua leaves a life of legacy and sacrifice to God's kingdom that is living for generations yet unborn. The Synagogue Church Of All Nations and Emmanuel Tv Family appreciate your love, prayers and concerns at this time and request a time of privacy for the family. Here are Prophet TB Joshua's last words: Watch and Pray ". One life for Christ is all we have, One life for Christ is so dear".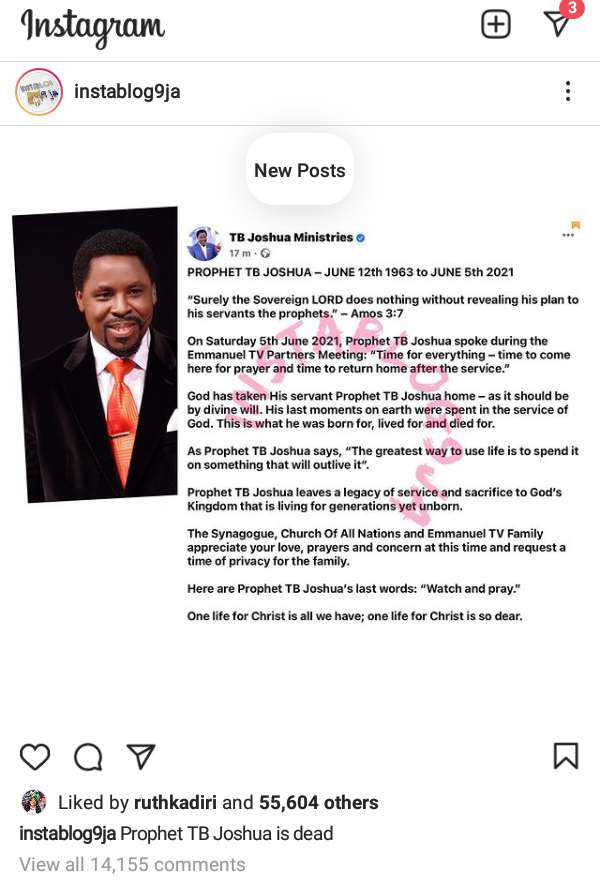 Minutes after the heartbreaking news was made public, actress Ruth Kadiri took to the comment section to reply thus:
"dear Lord", she said with a sad emoji.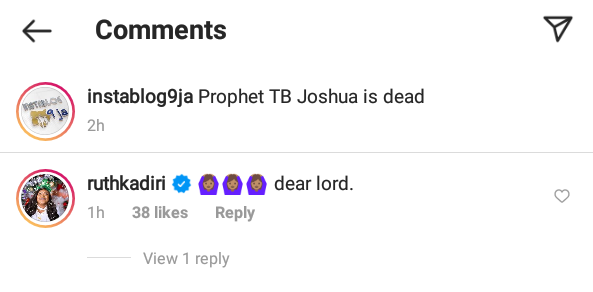 Here are other comments from other users of the app below: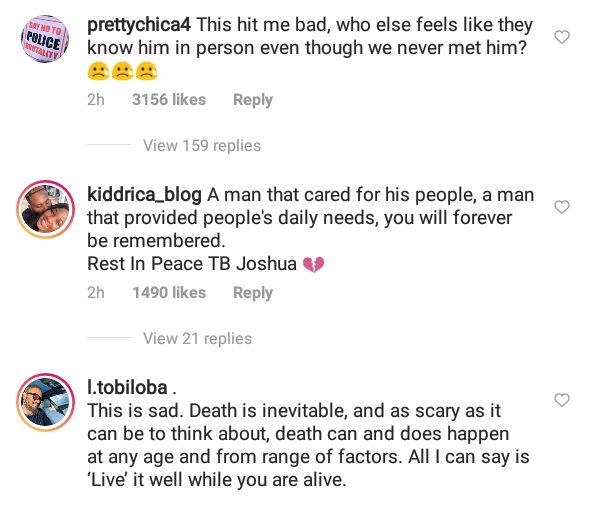 As saddening as it, we all pray that God gives the family the fortitude to bear this irreplaceable lost. Rest In Peace to the man of God, TB Joshua.
It is in deed a lesson that everything that has a beginning must surely have an end.
HoganHost BIRTHDAY, ANNIVERSARY SALE! Free Web Hosting
HoganHost BIRTHDAY, ANNIVERSARY SALE! free web hosting and free vps/dedicated server
HoganHost ANNIVERSARY SALE: HoganHost is turning 2 years old, so they are going to celebrate this special day with an ANNIVERSARY SALE! Starting, September 9, 2021. On the occasion of their Birthday sale, the cost of shared plan or dedicated server will be for free
HoganHost BIRTHDAY SALE
During their Birthday, the shared hosting, Offshore hosting, Reseller hosting, Vps/Dedicated server plan will be for free, for new and existing customers.
The are offering 5 month free service for existing customer's that has use their service up-to a year
Details of HoganHost BIRTHDAY Promo
Hoganhost Birthday Celebration. No Coupon code needed to grab this amazing offer.
Promo Start Date: September 9, 2021
End Date: September 13, 2021
Grab This Offer https://hoganhost.com.ng/
We wish Hoganhost happy 2nd anniversary
Abuja – Kaduna – Kano highway will be ready in 2023
Abuja – Kaduna – Kano highway will be ready in 2023
Engr Yahaya Baba Ali, Federal Controller of Works, Kano field headquarters during the weekend assured that barring any last minute change, the hybrid Abuja-Kaduna-Kano federal highway would be delivered on schedule.
The federal Controller told reporters in Kano that activities at various sections of the strategic road are on smooth ride, adding that the 2023 delivery date is feasible.
Engr Baba Ali said Kano – Zaria section of the road covering a stretch of 137km dual carriageway of expanded service lane being handled by Julius Berger has recorded 23 percent completion.
Engr Ali stated that, the hybrid road project includes upgrade and reconstruction of over 100 bridges, and box culvert within the stretch of Kano- Zaria section of the highway.
He disclosed that the hybrid highway that runs from the Federal Capital Territory through Kaduna State that terminates at the commercial city of Kano was among the list of 25 ongoing road projects in Kano and environs.
The federal Controller listed Kano – Katsina (phase 1) which terminates at Gidan Mutum Daya to have recorded 78 percent completion, while Kano – Shuwarin with a stretch of 202km, (sec 1) Kano- Maiduguri, divided into 5 sections, recorded 55 percent completion.
Similarly, Kano Gwarzo – Dayi flagged off recently by Kano State Governor, Dr. Abdullahi Umar Ganduje with a stretch of 90 km is ongoing as contractors have since mobilized men and equipment to site.
Tension in Jos as States continue with massive evacuation of citizens
Tension in Jos as States continue with massive evacuation of citizens.
As some states rush to evacuate their citizens studying in Plateau State following the activities of bloodthirsty men who have been on the prowl, killing unsuspecting residents, indigenes and others who are stranded, the State remains under tension as attacks have continued.
Recall that Plateau State was recently plunged into unusual security crisis following the massacre of over 30 travelers who were attacked along Rukuba Road in Jos North Local Government Area of the State on August 13.
The victims, majority of whom were Fulanis, born and brought up in Ondo State, were attacked while travelling from Bauchi en-route Jos to Ikare in Ondo State.
DAILY POST reports that the incident triggered other attacks in the State as some 'unscrupulous' citizens embarked on what may be termed as reprisal attacks.
The security crisis has forced some schools in the State including the popular University of Jos and the Federal College of Forestry to suspend academic activities and shut down pending when normalcy returns to the State.
The crisis grew worse on Wednesday following the report of about 35 persons who were slaughtered in Yelwa Zangam community, Jos North Local Government Area of the State by armed men suspected to be bandits.
The assailants were said to have disabled the bridge leading to the community, preventing any access by security agencies before launching the unfortunate assault.
Apparently rattled by the skirmishes around the university and the continued flares of tension and threats of reprisals, many states in the country have rushed in to evacuate their citizens to avoid being slaughtered by gunmen said to be on the prowl in the state.
It would be recalled that the UniJos Chapters of ASUU, and the Students' Union Government, SUG, had recently raised the alarm over the continuous killings of students of the University by hoodlums suspected to be bandits.
At least, eight states including Benue, Enugu, Abia, Ogun, Oyo, Kogi, Kwara and Gombe have Successfully  evacuated their students from Plateau over the continued reprisal attacks.
Some stakeholders who spoke with DAILY POST on the implications of the evacuation, said the move would have negative effects on the mental health of the affected students.
A psychologist, Dr Torwe Ngunan who spoke with our correspondent from Benue State, said, "the shock, the emotional stress that those students went through even before they were evacuated is enough to keep them depressed.
"Some of these students were eyewitness to the killings. They will have difficulties trying to reason properly at least for sometime due to the memory. Right now, they need to be engaged in some social activities so that they can put off some of the horrible memories".
In the same vein, a lecturer in the Faculty of Social Science, University of Abuja, Dr Olawole Michael, lamented the disruption of academic activities in the affected institutions.
"Definitely it will affect both the students and the school. To think that after all the setbacks in 2020 due to COVID-19 pandemic, students are still forced to go home because of security crisis is not good for the ears.
"Be assured that most of the students that were evacuated will not return to the school. That will affect the institution also. No parent will allow his child to go to school in a place where he or she would not be safe," he said.
DAILY POST's finding reveals that despite the closing of the institutions, some students particularly from the Southern parts of the country are still stranded in Jos city as fear of attack continues to mount.
But the spokesman of the Plateau State Police Command, ASP Ubah Gabriel Ogaba, in a chat with DAILY POST on Friday, said security has been beefed up in all areas witnessing unrest.
According to him, prior to the evacuation of students from the State, security agencies were on ground to ensure that they were not affected by the mayhem unleashed by the assailants.
"I don't think there are still students left in the hostels. Many states have evacuated their citizens, some may not publish it in the media but they have.
"Even before the evacuations, we had security everywhere in the state to ensure safety of residents."
However, Plateau State House of Assembly on Friday gave Governor Simon La long two weeks ultimatum to take action on the prevailing security situation and restore peace in the State.
This was disclosed by the Chairman, House Committee on Information and member representing Pankshin North, Hon. Dasun Peter, during a world press conference by the State Assembly, in Jos, the State Capital.